What I've got here is a wood set plan for your Traveller with reasonable measurements.
I worked that out of the original plans which occur on ebay etc. from time to time.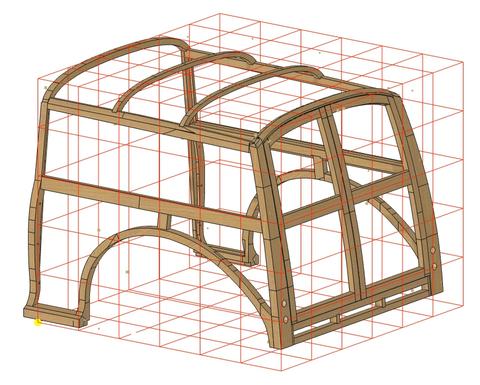 I've constructed a 3D-Model of the whole body in a "10-inch-crosshair-cube" which I got from the
maesures of the old plans
.
Then I took each part out and drew in the details. Look like above.
The plans are free to use, but I can't guarantee that the measures fit exactly to all of your cars. The fit to mine was quite good but there were some adjustments I had to do at details, especially drilling holes etc. So please check the measures before working it out.
You can find it here:
Datei von filehorst.de laden
Download available after 15 sec.
It's a pdf-data, sized 1.3mb, 28 pages.
If you don't trust the newish internet-download-witchcraft-kind-of-thing, please feel free to contact me, I'm going to send it to you